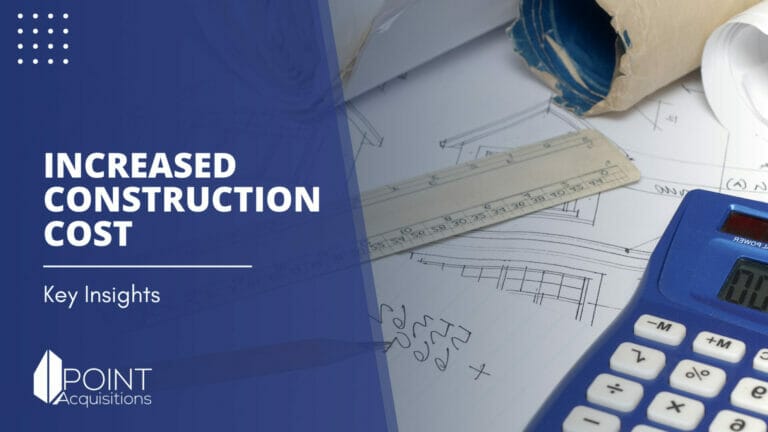 Construction Costs Rising in 2022: Here's Why It's Happening
If you're planning on developing in the next few years, it's important to be aware of the following construction costs trend.
According to industry experts, the national average cost of construction projects is set to rise throughout 2022. There are several reasons for this increase and numerous challenges, which we'll explore in this blog post.
Why are construction costs increasing?
The construction industry has seen a major rise in prices over the last year. There are multiple reasons for this, including:
Increase in building material prices. This is due to several factors, including tariffs on imported goods and the impact of COVID-19 on global supply chains.
Inflation due to an increased money supply chasing the same productivity and output which has resulted in some of the highest inflation in 40 years.
Labor costs are rising as workers demand higher wages in response to the increased cost of living and lack of skilled laborers in the workforce.
Rising interest rates make it more expensive to finance construction projects.
Covid-19 Affects Construction Costs
The pandemic adversely impacted the construction industry and as a result, the industry as a whole is still experiencing significant challenges. In the short term, many building projects were delayed by the pandemic and are back on track, but that delay caused a major reduction in human capital and significant delays across the board.
This in turn means that upcoming projects will have a delayed start due to the backlog of ongoing projects. Furthermore, the cost of construction materials normally increases annually due to inflation (an issue that contractors faced even prior to the pandemic). However, the inflation that accompanied the pandemic has been significantly different and has largely impacted construction costs. The U.S. construction industry is heavily dependent on foreign construction materials such as steel and stone. Because COVID-19 is a global pandemic, it caused closures and delays at international factories that produce these materials.
Due to a confluence of events, construction costs are projected to continue rising and will ultimately stabilize as long as labor and material costs stabilize and there are no further supply chain disruptions.
Supply Chain Disruptions
The pandemic has also led to a supply chain disruption for materials, which has caused construction inflation. We have seen rising costs in the following construction materials:
Gypsum Products
One building material that is likely to see a price increase is gypsum products, which are used to construct walls and ceilings. Gypsum's price has increased by 20% since 2020 and is expected to continue to rise in the coming years.
Paint
The exterior paint price has risen nearly 50% in the months since, including 14.5% through May 2022. The PPI for architectural coatings increased by 1%. This is not surprising given how much more expensive it's been compared to other types such as clearcoats which only saw an increase of 0.2%.
Ready to Mix Concrete
Since January, the price of ready-mix concrete has increased by nearly 9% this year. This may be due to the increasing demand for building materials not being met by traditional methods such as slump or fly ash options available at today's market prices.
Transportation of Freight
The price of diesel fuel, used to transport building materials, has been rising in recent months. The price of diesel fuel increased by 13.0% from January 2021 to April 2021 and is expected to continue to increase in the coming months. This will likely lead to an increase in the cost of transporting building materials to construction sites.
Steel Products
The price of steel products, such as reinforcing bars and structural shapes, has been on the rise in recent months. The price of reinforcing bars increased by 11.0% from January 2021 to April 2021 and is expected to continue to increase in the coming months.
Softwood Lumber
The lumber prices have been rising in recent months due to increased demand for building materials. The price of softwood lumber increased by 13% from January 2021 to April 2021, and it is anticipated to rise in the next few months.
Other Building Materials
The price of several other building materials, such as asphalt, brick, and stone, has also risen in recent months. As the cost of building materials continues to rise, so will the cost of construction.
Logistics issues
The pandemic created logistics issues that have caused delays across the supply chain. These delays have often been due to disruptions in the global supply chain, such as port closures and transportation disruptions.
In addition, many material suppliers have struggled to keep up with the increased demand for building materials, resulting in longer lead times and higher prices.
Labor Shortages
Another factor driving up the cost of construction is labor shortage. The pandemic has decreased the number of contractors and people working in the construction industry, as many workers have been laid off or have left the industry altogether. This has led to wage pressure from those still working in the industry as companies compete for a limited pool of skilled laborers.
Energy prices impacting the building industry significantly
The building industry has been hit hard by rising energy prices. The cost of heating and cooling buildings has gone up significantly, leading to an increase in the cost of construction. As a result, many people are finding it difficult to develop in today's market.
The building industry is facing challenges on all fronts, and it is clear that energy prices have a significant impact. In addition, the building industry is also having to contend with the impact of climate change. As the weather becomes more extreme, building structures that can withstand the elements is becoming increasingly difficult.
Will construction costs fall in 2023?
The current trend shows that construction-related expenses have been on an upward trajectory for quite some time now. If the same pattern plays out again next year, then we can expect much of the same that we've experienced in the past couple of years.
What does this mean for you?
Keep an eye on construction costs in your area, and plan accordingly. Similarly to the real estate market, construction costs are extremely dynamic and rapidly changing. This can also impact rental costs for commercial buildings relevant to market changes in materials etc.
Managing cost inflation requires understanding current supply chain issues, material shortages, and challenging environments. Doing so will ensure your project stays on budget and is completed on time!
Disclaimer
Please note that Point Acquisitions is not a tax expert or tax advisor. The information on our blogs and pages is for general informational purposes only and should not be relied upon as legal, tax, or accounting advice. Any information provided does not constitute professional advice or create an attorney-client or any other professional relationship. We recommend that you consult with your tax advisor or seek professional advice before making any decisions based on the information provided on our blogs and pages. Point Acquisitions is not responsible for any actions taken based on the information provided on our blogs and pages.
Selling a hotel isn't just a transaction; it's an art that demands a deep understanding of the accommodation sector. The industry has witnessed considerable shifts in recent years, influenced by changing traveler preferences, technological advancements, and economic trends. These shifts…
Read More