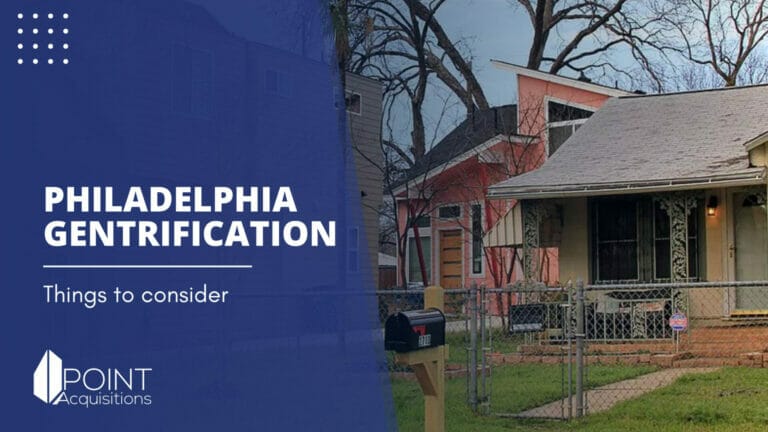 Gentrification in Philadelphia and How to Identify Up and Coming Neighborhoods
Gentrification takes place when rundown urban areas attract residents of higher income. It's a controversial phenomenon. Conversations about it can lead in both highly negative and positive directions. As long as major cities remain the most convenient and culturally interesting places to live, however, urban areas within reasonable commutes of work and pleasure will be the most ideal living spaces. That's why buying property in a distressed area of Philadelphia that has the potential to become trendy can be a promising investment. There are copious numbers of up and coming Philadelphia neighborhoods to consider.
How to pick the right area
You want to be ahead of the curve, but not too much so. The early presence of students and artists is a sign that a community in disrepair has room to grow. They may be the butt of Internet satire, but even the smallest number of young creative people with outrageous tattoos and beards are a sign that eclectic cafes, bars and boutiques will follow.
Transcending negative perceptions
Local resistance to new more monied neighbors with the potential to drive up the cost of living is inevitable. Joining forces with other property owners and with those with long ties to the area is one positive way to begin. Planning community gardens and outdoor events that are inclusive can help to build bridges. Attending meetings with community activists may sound like a daunting proposition, but it can help you to identify shared concerns and build functional partnerships.
Hire contractors familiar with the latest renovation trends
Renters interested in living in newly gentrified areas are definitely in search of lower housing costs, but they're also attracted to a certain lifestyle. Units you intend to rent should contrast with the rough and tumble look of the blocks around it, so stylish renovation will be key. Think exposed brick walls and loft style flooring. Pay attention to detail. Choose stylish fixtures. Give your rental spaces unique flourishes such as natural wood boards across the ceilings. It may sound tongue and cheek, but your interior design won't go wrong if it achieves what a recent Metro article describes as a "hipster aesthetic." 
There are some up and coming Philly neighborhoods to take stock of. Upper North Liberties and Graduate Hospital are just two thriving neighborhoods in the Philadelphia area that have undergone dramatic makeovers as a result of buyers investing in them when they were less than ideal places to live, and there continue to be new frontiers in real estate throughout Philly. Marconi Plaza offers incredible opportunities to those interested in buying fixer uppers. Point Breeze and Newbold are just two next frontiers for those looking to own affordable homes in areas within close proximity to Center City. Homes that have been well cared for but need enhanced curb appeal and a little interior work are the most ideal. A real estate professional will help you to best navigate your property purchase. There's no doubt, however, that Philly is the place to invest. It's arguably the best city in the U.S. to buy property you can expect to significantly profit from owning. Don't miss out on the Point Breeze gentrification and other up and coming areas in Pennsylvania; contact our specialists today to take advantage!
Disclaimer
Please note that Point Acquisitions is not a tax expert or tax advisor. The information on our blogs and pages is for general informational purposes only and should not be relied upon as legal, tax, or accounting advice. Any information provided does not constitute professional advice or create an attorney-client or any other professional relationship. We recommend that you consult with your tax advisor or seek professional advice before making any decisions based on the information provided on our blogs and pages. Point Acquisitions is not responsible for any actions taken based on the information provided on our blogs and pages.
Selling a hotel isn't just a transaction; it's an art that demands a deep understanding of the accommodation sector. The industry has witnessed considerable shifts in recent years, influenced by changing traveler preferences, technological advancements, and economic trends. These shifts…
Read More