Emerging Trends in Real Estate 2023
With 2022 firmly in the rearview mirror, we can begin to make sense of the last 12 months and recognize the emerging trends in real estate of 2023.
The volatility from geopolitical disputes like Russia and Ukraine and China's zero-COVID policy affected many important industries and consumer sentiment. The economic outlook has looked bleak at times. In the first quarter of 2023, commercial real estate investment volume in the United States experienced a significant decline of 57% compared to the previous year, reaching a total of $78 billion, according to the MSCI Real Assets Transaction Database.
Awareness of emerging trends in commercial real estate is essential for identifying investment opportunities, managing risks, gaining a competitive advantage, adapting to changing market dynamics, maintaining industry expertise, and embracing innovation and sustainability.
This article will discuss these emerging trends and reflect on what property owners and potential investors may need to consider to stay ahead in 2023.
What Area of Real Estate is Most Profitable?
Studies show that the industrial and distribution sector is expected to continue being a promising opportunity for investment and growth, closely followed by multifamily housing. The Emerging Trends in the Real Estate Report 2023 by ULI and PwC highlights that these two property sectors have steadily increased for the past six years. The mass emergence of e-commerce in the last few years highlighted the evolving expectations of customers ordering online. Like Amazon, customers expect low shipping costs, product availability, fast delivery, and transparent shipping practices.
The report also shows retail and office real estate has low investment and development opportunities. The surge in remote work and online shopping are now rendering these two sectors surplus to requirements even to the point where we can see a reverse in population trends, with people moving out of urban areas. Research highlights that the resulting underutilized buildings will challenge owners and landlords, as just 40% of workers have returned to the workplace since COVID regulations have been removed. A whopping 80% of employees favor remote work and desire at least 1 day at home during the working week, according to a study performed by Mental Health America, indicating that there is unlikely to be any swing in momentum toward office vacancy rates lowering any time soon.
Where is the Hottest Real Estate Market?
With low vacancy rates and healthy year-on-year rent growth, the Eastern side of the US is a far hotter market right now than the West. Nashville and our very own Philadelphia both make the top 10 list according to Yardi Matrix's Industrial Report from December 2022.
Philadelphia's industrial sector has a distinct advantage over the distribution requirements of New York City's residents, offering significantly lower costs. In November 2022, the average rental rate in Northern New Jersey stood at $9.22 per square foot, 35% higher than Philadelphia's reported rate of $6.79 per square foot, as per Yardi Matrix's December report.
Nashville has the lowest market vacancy rate in the USA right now. Industrial rent and sales prices are set to boom, and industrial development is still below the nationwide average, according to CommercialEdge Nationwide, meaning there is ripe investment to be had!
What Type of Real Estate has the highest return?
In general, the more tenants your building has often correlates with a greater potential for higher returns. The ongoing housing shortages remain advantageous for multifamily and single-family rental (SFR) properties. However, in other markets, there is a growing preference for Class A properties as investors compete for them, signaling a flight to quality. Tenants have a strong desire for building amenities and proximity to public transportation, based on a report by Cushman and Wakefield. With the rise of e-commerce and the adoption of hybrid work policies reducing space requirements, building quality has emerged as a prominent real estate trend.
What Type of Real Estate Appreciates the Fastest?
The commercial real estate sector faces economic uncertainty throughout the remainder of 2023. Several key factors contribute to this uncertainty, such as the interest rate environment and the future of office space. However, there are also positive aspects to consider. Multifamily and industrial properties are performing well, and the industry may have underestimated the strength of neighborhood retail.
Macroeconomic forces, including geopolitical tensions, market volatility, and high inflation, will likely continue to impact the real estate market in the year's second half. So, it is important to keep yourself updated or consult with professionals for expert guidance.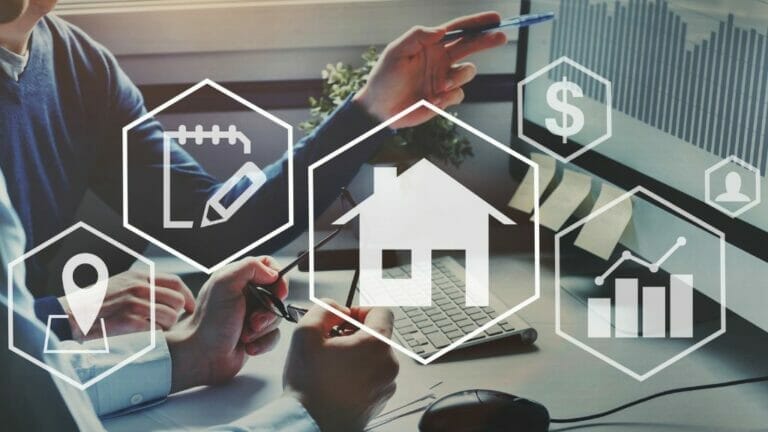 Technology-driven transformations in commercial real estate
As in all other industries, commercial real estate is experiencing a technology-driven transformation. For example, Virtual Services like tours for commercial leasing have become the norm. This step alone enabled customers to fully visualize and explore available office suites for lease without directly contacting the firm. As a result, the sales process was enhanced, saving time by directing customers with greater intent to the virtual door of the firm.
Certain companies have been using sensor data from Internet of Things (IoT) devices to gain insights into tenant utilization of their facilities. This data was then used to implement valuable changes that were pandemic-friendly. As an example, one company incorporated the Needlepoint Bi-Polar Ionization system (technology that can be used in HVAC systems or portable air cleaners to generate positively and negatively charged particles) into its properties as a responsive measure to address health and safety concerns.
Many technology-driven transformations already exist, and with the demand for Class A properties, including luxurious amenities and convenient technological solutions, the race is on to stay caught up!
What Are the Shifts in Workspace Requirements?
The demand for flexible workspaces has been steadily increasing since 2020, driven by the gradual return of businesses to the office and the need to adapt to new workspace requirements. Contrary to popular belief, companies across various industries recognize the advantages of utilizing flexible offices, leading to a surge in demand. Profitability rates among British flexible office operators stand at 87%, as the Flexmark report from Workthere reported. Similarly, in the Asia Pacific region, 60% of companies have experienced double-digit growth in the flexible office space industry. The value of flexibility offered by these spaces fuels the demand and prompts service providers to improve their properties to accommodate new technologies and better facilities, benefiting both companies and their employees.
Sustainability features
Sustainability is crucial in the CRE industry, driven by rising demand and environmental concerns. Buildings currently contribute nearly 40 percent of carbon emissions globally, and almost half of U.S. energy consumption is associated with the built environment, according to Gensler's Impact By Design 2020 report. CRE companies are incorporating new technologies and focusing on energy efficiency. Investing in sustainability leads to tenant satisfaction and lower operational costs. Millennials, currently comprising the largest generation in the labor force, prioritize environmental, social, and governance (ESG) factors, and employers prioritize safe facilities and attractive amenities. The growing focus on environmental and social responsibility will be increasingly difficult to ignore as others adapt and change to evolving tenant expectations.
Focus on Health and Well-being
Health and well-being standards in the CRE industry are gaining traction, with a limited number of certified buildings in the U.S. Numerous projects are registered for WELL certification globally. However, the importance of human health and wellness in the workplace, particularly for millennials, drives the demand for more certifications. Studies reveal that millennials prioritize a healthy work environment when making employment decisions. This growing demand has led companies to consider wellness certifications for new and existing buildings. The focus on wellness has also spurred advancements in building innovation and technologies that enhance occupant health. In the future, buildings with wellness certifications may receive health insurance incentives as insurers explore risk reduction strategies. Companies implementing employee health and wellness programs have already experienced similar benefits.
Flexibility in Leasing Arrangements
The pandemic has changed how companies operate, leading many to be tied to leasing arrangements for space they no longer need. Studies show that nearly 88% of companies plan their physical space requirements one year or less in advance, representing a 151% increase from 2022. Most real estate executives also intend to add space to their 2023 real estate strategy. Being flexible and responsive in managing leases and exploring alternative real estate options has become vital to strategic decision-making for companies in the post-pandemic era.
Promoting Collaboration and Networking Opportunities
Collaboration may not sound like the best investment option in commercial real estate. There may be certain temptations in going it alone when investing in CRE, and access to the vast majority of the profits is enough to incentivize anyone. However, collaboration in CRE brings numerous advantages and opportunities. By fostering teamwork and pooling expertise, professionals in CRE gain access to a wealth of knowledge and skills. This collective intelligence enables them to make informed decisions, identify market trends, and seize emerging opportunities. Collaboration expands the network of potential deals, increasing deal flow and enhancing project execution through improved coordination and efficiency. It also promotes innovation and adaptability, allowing the industry to embrace new technologies and sustainable practices.
In conclusion
From exciting new technological transformations to promoting collaboration and networking opportunities, there are several reasons to be optimistic about commercial real estate. The challenges of the past few years and the economic impact persist. Still, there is light at the end of the tunnel, and the push to modernize, innovate and adapt makes it an exciting time to be an investor despite some of the concerns that linger.
Adapting to the challenges of a post-COVID era and integrating these emerging trends will likely be the difference when trying to expand and diversify your commercial real estate portfolio.
Disclaimer
Please note that Point Acquisitions is not a tax expert or tax advisor. The information on our blogs and pages is for general informational purposes only and should not be relied upon as legal, tax, or accounting advice. Any information provided does not constitute professional advice or create an attorney-client or any other professional relationship. We recommend that you consult with your tax advisor or seek professional advice before making any decisions based on the information provided on our blogs and pages. Point Acquisitions is not responsible for any actions taken based on the information provided on our blogs and pages.
Selling a hotel isn't just a transaction; it's an art that demands a deep understanding of the accommodation sector. The industry has witnessed considerable shifts in recent years, influenced by changing traveler preferences, technological advancements, and economic trends. These shifts…
Read More